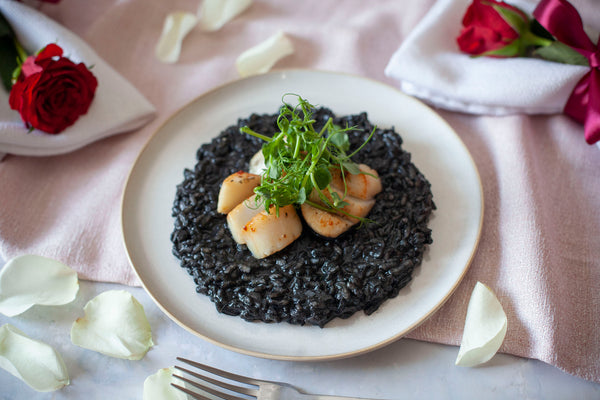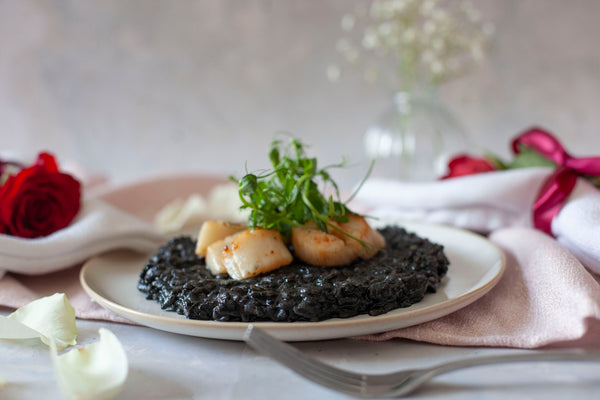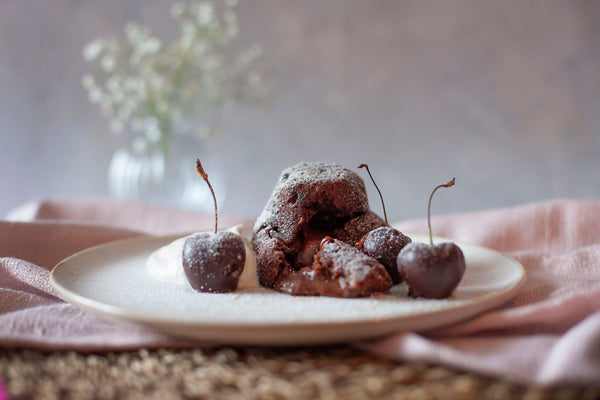 Main
Our Yin and Yang squid ink risotto topped with king scallops:

Our Yin and Yang Risotto is an exquisite dish. The creamy squid ink risotto has flavours that instantly transport you to the seaside. Beautifully contrasted with plump king scallops this is a show stopping dish to dazzle your love.
Desserts
Black Forest Chocolate Fondant with Cherry Cream

Our Black Forest Chocolate Fondant is a rich, luscious dessert to end your romantic meal. The soft and delicate sponge with an oozing chocolate centre, served with indulgent cherry cream and chocolate coated (and brandy soaked) fresh cherries is the perfect way to anyone's heart!
Required Equipment
Yin and Yang Risotto
• Saucepan
• Frying pan

Black Forest Chocolate Fondant:
• Small paring knife
• Small bowl
• 2 ramekins/metal pudding mould
• 2 pyrex/glass mixing bowls
• Sieve
• 2 small saucepans
• Wooden spoon/spatula
• Hand blender/food processor
• Hand/electric whisk

Pantry Items
Yin and Yang Risotto
• Olive oil
• Salt and pepper

Black Forest Chocolate Fondant
• Cocoa powder
• Plain flour
• Caster sugar
Prep & Serve Time
Prep time (main & dessert) = 1 hour 5 minutes
Serve time = 10 minutes (main) 15 minutes (dessert)