How Does The Host's Pantry Work?
Not sure where to start?
Let us take you through the simple process of luxury dining experiences from The Host's Pantry.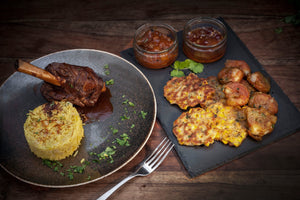 STEP ONE: CHOOSE YOUR MENU
Choose from our seasonal selection of recipe boxes. Remember, you will be cooking your dishes from scratch and so we recommend, where possible, to choose one menu for your guests. If you have any queries regarding allergens or vegetarian substitutions please contact us directly and we'll endeavour to find a solution.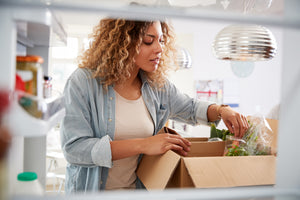 STEP TWO: HOME DELIVERY
At checkout select your delivery date. Your delivery date should be the day before your hosting experience, this will ensure that you have plenty of preparation time and that you have everything you need for your meal. You can book up to 8 weeks in advance. We currently deliver on Thursdays and Fridays. We offer nationwide delivery, and delivery is free for orders over £70.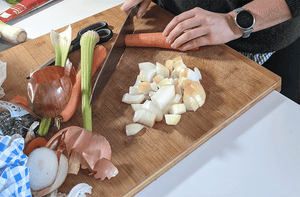 STEP THREE: PREPARE YOUR DISHES
As part of the The Host's Pantry experience, we help you manage the preparation and serving of your dishes with a 'hosting guide'. Inside your hosting guide we break down the tasks, giving you a timeline so you perfectly execute the preparation and serving of your meal.
Your first job will be to start your preparation tasks to ensure you're as ready as you can be before your guests arrive, this will mean that you can spend as much time as possible with your guests during the meal.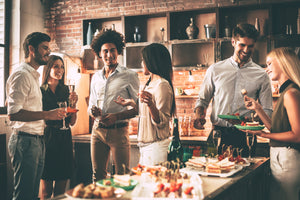 STEP FOUR: WELCOME YOUR GUESTS
This is where the fun starts, at this point everything for your meal is as ready as it can be; the table is set, the drinks are chilling and it's time to welcome your guests.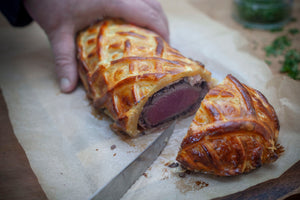 STEP FIVE: SERVE YOUR DISHES
Inside your hosting guide we will lead you through the 'serving' process making sure all the different elements come together harmoniously, don't worry about the timings between courses, we'll help you with it all.
Select Your Menu
Browse our Current Menus and Start your Luxury Dining Experience with The Host's Pantry today by clicking the button below!