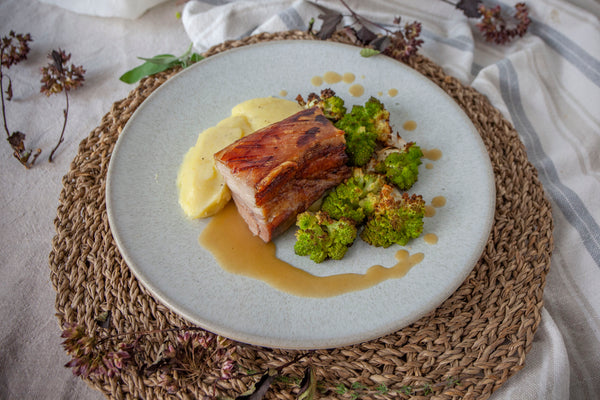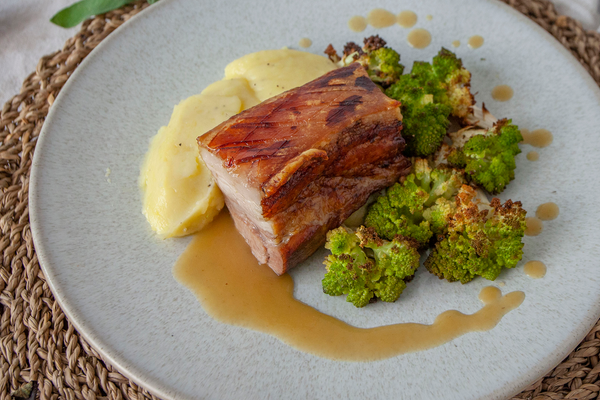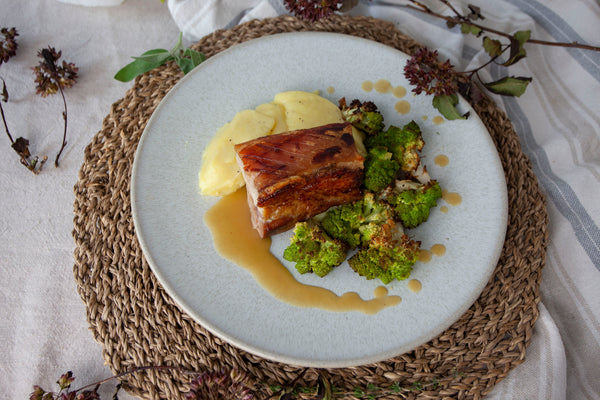 Product Details
Our confit belly pork is an indulgent dish with tender, melt in the mouth belly pork topped with irresistible crunchy crackling. Served with a creamy mashed potato, roasted Romanesco cauliflower and a delicate fennel and apple sauce.

All of the elements of this dish can be prepared ahead of time which makes this main course a hosts dream!

All of the ingredients will be delivered in a chilled state in insulated packaging specifically designed to keep your food safe in transit. All packaging is recyclable or compostable.

PREP & SERVE TIME
Prep: 1 hour 35 minutes
(Excluding 6 hours brining time - The pork will need at least 6 hours or overnight to brine in the fridge)

Serve: 2 hours
(The pork is cooked for 2 hours and served immediately. Please note that the preparation tasks also take 1½ hours so you have the choice to either complete the preparation tasks whilst the pork is cooking and serve immediately or you can complete all the preparation tasks first thing in the morning and cook your pork 2 hours before serving. We recommend the latter).
Required Equipment
• Pot/bowl deep enough for brining
• Potato ricer or sieve
• 2 Mixing bowls
• Sharp knife
• Saucepan
• Hand blender/food processor
• Roasting tin (this must not be too big as the apple juice needs to cover the meat whilst cooking but not the rind)
• Jug
Pantry items
• Black peppercorns
• Table salt
• Honey
• Salt and pepper
• Olive oil
• Dijon mustard
• Whole milk

Allergens
Mustard, Dairy
If you require assistance with allergens/dietary requirements please contact us directly at hello@hostspantry.com