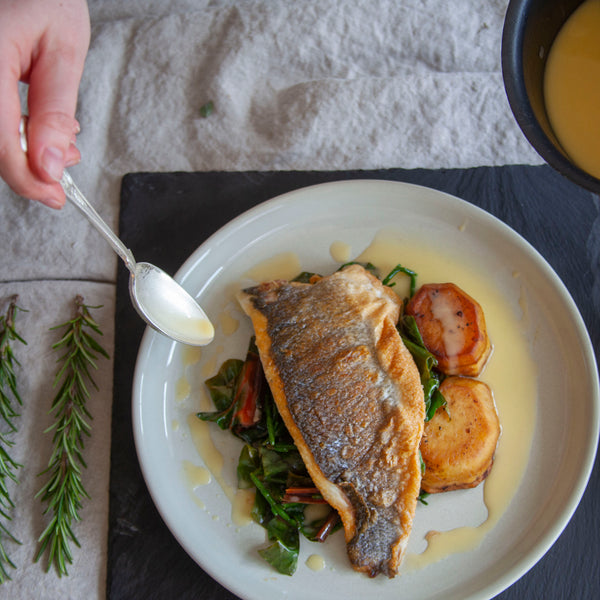 Main
Our Sea Bass main course:

Perfect for fish lovers, our Sea bass with Beurre Blanc, fondant potatoes, chard and samphire. The delicate fish is perfectly complemented by a creamy, sweet and sharp Beurre Blanc. The crisp yet fluffy fondant potatoes are buttery and flavoured with rosemary. The fresh chard and crisp samphire balance this dish.
Desserts
Pre-Made Citron Tart served with Longley Farm Single Cream:

Our pre-made citron tart is sourced from Gill's Puddings in Market Drayton in the heart of the Shropshire Countryside. The creamy citron filling is a delicate and refreshing end to your meal, we'll also supply you with Longley Farm single cream to drizzle over the top. All of Gill's puddings are handmade and if you're quick enough to hide the packaging, you could always pull this off as your own. We won' tell if you don't! This pre-made dessert offers you all the luxury without any of the work.


Required Equipment
Sea Bass:
• Clingfilm
• Ovenproof frying pan/deep roasting tin
• Bowl
• Pastry brush
• Sharp knife
• Saucepan
• Jug
• 1 frying pan
• 1 lidded saucepan/frying pan
• Plate
• Baking tray
• Timer
• Microwave/saucepan to warm
Pantry Items
• Olive oil
• Salt and pepper
Prep & Serve Time
Prep time (main & dessert) = 1 hour 25 minutes (including 1 hour cooking time)
Serve time = 35 minutes